One location, two car parks with several very different functions – DIVVY's smart parking management solutions take care of them all.
Client: AMES Australia
Property: 30-32 Prospect Street, Box Hill, Victoria
At 30-32 Prospect Street, in the heart of Box Hill's up-and-coming business district, is the local branch of Australian training and settlement agency, AMES Australia. The building is also home to the Inner Eastern Melbourne branch of The Orange Door, a government-backed network that provides help for people experiencing family violence. DIVVY manages two car parks at Prospect Street – one for each group.
Getting the most out of a multipurpose car park
The AMES Australia Box Hill car park plays two roles – to provide parking for AMES Australia staff and fleet vehicles as well as paid public parking. When DIVVY took over the management of the car park in February 2023, the first step was to install boom gates.
The previous parking operator had been running a 'pay and display' public parking system in the car park, which was difficult to manage effectively in such a busy area where parking is hard to come by.
How to manage staff parking plus pre-booked and casual public parking in the same car park
Now, AMES Australia enjoys ultimate flexibility when it comes to their staff and fleet parking, thanks to the DIVVY staff parking management solution. AMES Australia groups its employees for parking purposes, allowing them to manage different levels of parking access quickly and easily. Members of one group book and pay for their onsite parking via the DIVVY app, while fleet cars have permanent parking access.
At the same time, DIVVY has made the management of the paid public parking at 30-32 Prospect Street more efficient and effective. Drivers can pre-book their parking via the DIVVY app or website, or they can take advantage of DIVVY's Drive Up casual parking system.
Thanks to DIVVY's push button technology, AMES Australia staff and pre-booked public parkers enjoy a 'windows up' parking experience. When drivers with a parking booking approach the car park entrance, they only need to tap a button in the DIVVY app on their phone to open the boom gate and enter the car park. Geolocation technology limits the push button function to drivers with a booking, and only when the driver is within close range of the car park.
Drivers without a booking can park at 30-32 Prospect Street with DIVVY's Drive Up. They just tap their credit card, Apple Pay or Samsung Pay at the boom gate to gain entry. When it's time to leave, another tap with the same payment method at the car park exit opens the boom gate, and they're on their way. 30-32 Prospect Street is the first car park in Victoria to feature DIVVY's Drive Up.
Convenient public parking in bustling Box Hill
Set just behind Box Hill's main thoroughfare, Whitehorse Road, AMES Australia's car park is perfectly positioned for employees from local workplaces, commuters catching the train from Box Hill Station, visitors and employees of Box Hill Central shopping centre, Box Hill Hospital or Epworth Eastern Hospital, and students and staff from the Box Hill Institute. It's also an excellent overnight parking option for residents of local apartment buildings, given the lack of street parking in the area.
Putting safety and security at the forefront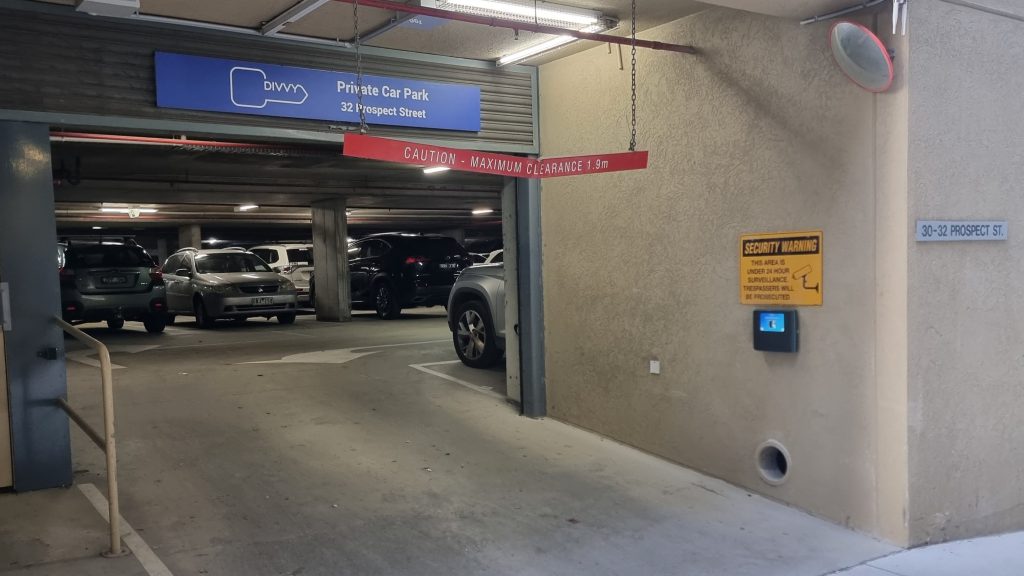 Family support and safety hub The Orange Door also has a car park at 30-32 Prospect Street. In contrast to AMES Australia's public car park, this car park is used only by The Orange Door's staff and clients. Given the sensitive nature of the important work The Orange Door does, safety and privacy are paramount.
The Orange Door uses DIVVY's Premium Pass Parking feature to ensure that only their staff and authorised visitors – and no one else – can access parking in their car park.
The Orange Door's staff and visitors book their parking space via the DIVVY app or website, but the Premium Pass Parking feature means that they are the only ones who can do so because the parking is only visible and bookable for The Orange Door's authorised clients.
This functionality allows The Orange Door to manage staff and visitor parking conveniently and efficiently while upholding the privacy and security levels their business and visitors need.
Clayton Abraham, Senior Facilities Manager for AMES Australia, says,
"The old pay-and-display parking system just wasn't working for us in our Prospect Street car park. DIVVY's versatile system, which offers both pre-booked and casual parking, gives us the flexibility we need in our car park while still ensuring parkers are paying correctly for their parking and not overstaying the time they've paid for. Meanwhile, the adaptability of the DIVVY staff parking management product allows our tenants, The Orange Door, to manage their client and visitor parking safely, securely, and easily."
How can we help you with your parking?
Does your business have a mixed staff and public car park that's crying out for efficient management? Or perhaps your car park is used by several tenants with different parking requirements. We can help you with versatile and adaptable parking management solutions to solve all your parking problems. Get in touch with our sales staff today.