Case Study: DIVVY and Enacon Parking
Since 2016 DIVVY has partnered with Enacon Parking to manage all pre-booked parking across their portfolio of diverse Sydney carparks. Today, DIVVY handles on average 1,851 parking transactions for Enacon every month.
Enacon Parking is a wholly owned subsidiary of Mulpha Australia, one of Australia's most experienced real estate investors. In operation since 1979, Enacon is responsible for developing and operating Mulpha Australia's parking facilities.
DIVVY pre-book parking is in operation at Enacon's multistorey carpark at 2 Cathedral Street, Sydney, their hospital-adjacent open air carpark in Bella Vista, their valet parking at the Intercontinental Hotel Sydney and their hotel carpark at the Novotel Darling Harbour. Each one of these sites offers a completely different parking experience, but DIVVY pre-book parking works successfully across them all.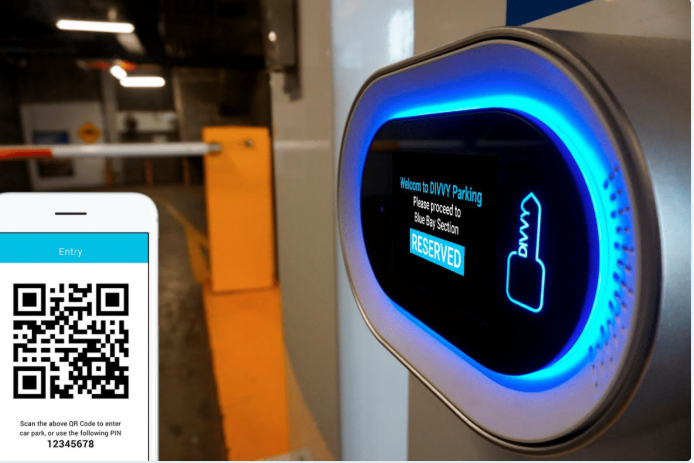 The DIVVY pre-book parking system allows parkers to select from hourly, daily or monthly parking options via the DIVVY app or website. The system manages payment and parkers then receive a QR code to their phone. The QR code is read by DIVVY's market-leading access controllers at the carpark's entrance and exit to allow access and egress.
DIVVY's pre-book parking system has come into its own during the COVID pandemic. The cashless, contactless system offers peace of mind for drivers still moving around their communities but wanting to limit their risk. Commuters can avoid public transport with a pre-booked DIVVY car park that doesn't require them to handle cash, pull parking tickets, use payment machines or touch any shared surfaces at all.
Matt Ormiston, General Manager of Enacon Parking, says,
'since 2016, Enacon has depended on DIVVY to provide and manage a complete end-to-end pre-book car parking service across our Sydney carparks. We know we can rely on DIVVY to market our carparks effectively, manage all pre-book customer transactions and remit payments to us every month.

Their 24/7 customer care team handle any issues that arise, and all system and access controller maintenance is taken care of. The real time data and reporting that the DIVVY system generates provides invaluable insights into carpark usage. Enacon is happy to recommend DIVVY to other businesses looking to improve their parking systems.'

For more information, please contact our team at sales@divvy.com.au.
DIVVY's new Queuing & Contact Tracing Platform can help Australian businesses
DIVVY's new Queuing and Contact Tracing Platform helps any business that is visited by the public to navigate venue capacity, social distancing and record keeping regulations with ease. It gives customers the peace of mind and confidence to visit shops, pubs, restaurants, galleries, gyms, hairdressers – any business, large or small, with publicly accessible premises.
Businesses with premises visited by the public face unique challenges under COVID-19. Governments have introduced capacity limits to ensure social distancing can be maintained. Businesses are required to keep records and contact information for all visitors. Not only are there government-mandated obligations to adhere to, but businesses also need to consider their customers' mindset. Customers and patrons need to be assured that their visit will be safe, and that the business has taken all possible precautions, or they simply won't come.
At DIVVY, we optimise bookable assets through smarter technology. After witnessing the challenge faced by publicly accessible businesses during COVID, we turned our efforts to developing our Queuing and Contact Tracing Platform.
Our Queuing and Contact Tracing Platform enables any shop, venue, or premises open to the public to communicate with its customers when its peak periods are, which are its busiest and quietest days, and, in the event of queuing, the wait time to enter the venue. By helping customers plan their visit before they leave home, our Platform makes it easy for them to avoid busy periods, save time, and visit with peace of mind. To find out how DIVVY is helping Australian supermarket giant Woolworths take care of their customers with their Q-Tracker tool, click here.
Our Platform also has pre-book capabilities, giving customers the opportunity to book their visit in advance to avoid queuing. By allowing businesses to control the time, duration and number of customers accessing their premises, and even manage separate areas within the venue, it helps businesses to adhere to venue capacity limits and maintain social distancing within the premises.
Visitor record keeping has been mandated by many Australian state and territory governments. Our Queuing and Contact Tracing Platform allows businesses to capture visitor information quickly and easily, including contact details and day and time of visit. Our Platform makes it possible to track interactions and crossovers between visitors and employees, helping with contact tracing should it be required.
Some businesses require visitors to complete health attestation questionnaires, declaring any symptoms before entering the premises, and our Platform can manage this too. Using our Platform, it's quick and simple to conduct these questionnaires, collect the required information and store visitors' responses.
Effortlessly fulfill your COVID Safe obligations, give yourself peace of mind, and your customers the confidence to visit your business with DIVVY's Queuing and Contact Tracing Platform.
For more information, please contact our team at sales@divvy.com.au.